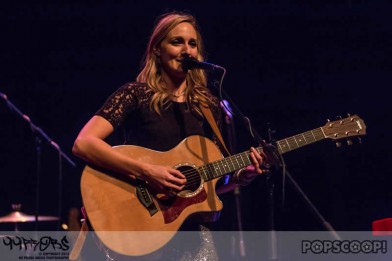 "Hold on tight 'cause it's the start of something." And what a start it is for rising singer/songwriter and multi-instrumentalist Emma Stevens. Be sure to catch her unique pop/country/folk sound and vibe before it goes stratospheric!
With a love of music instilled in her from a very early age, Emma sought grounding in both classical and contemporary music, becoming a member of the Surrey Youth Orchestra and later enrolling at the Academy of Contemporary Music. The latter solidified her performance and songwriting skills, and combined with her growing repertoire of musical instruments (currently guitar, piano, cello, ukulele, banjo, mandolin, percussion and baritone guitar), led to session and tour live-backing work for artists and bands including fiN, H-Boogie, The Kooks, Mona, Incubus and Feeder.
The personal loss of her ever-supportive mother to cancer in 2012 provided the impetus for Emma to seriously pursue a solo career; and this past year has been a whirlwind of creative productivity. At the centre is a remarkable song release concept: a series of 4 x 4-track EPs, each featuring a different painting designed by Emma's mother that fit together like a puzzle to make a larger artwork – ultimately the cover of her debut full-length album "Enchanted".
Emma's sound is a combination of ubercatchy pop hooks, country elements and folk storytelling sensibility. Her voice is emotive, clear and effortless with an endearing country twang and an audible joyful smile. The range of songs collected on "Enchanted", from barn-storming lead single "Riptide" to ballads like "Sunflower" and "Party Girl", displays an impressively mature talent. All of it is encapsulated in lush production courtesy of Pete Woodroffe (who has previously worked with Def Leppard, Simply Red and Melanie C).
As she is still an unsigned artist, the recent unprecedented release of album lead single "Riptide" as iTunes Free Single of the Week, bodes well indeed for Emma's future musical career. Following her supporting stints of acts such as Kate Nash, Passenger and Jenn Bostic, Emma's first headline UK tour is due in spring 2014 and her legions of #Sparklers fans are undoubtedly set to grow even further. "Gotta love this riptide" she is taking us on!
Pop Scoop! sat down to have an in-depth conversation with Emma right after her recent set at Norwich Arts Centre. She spoke about her distinctive sound, what first got her into music, the concept behind her EPs and album, her musical inspirations, and who she would love to collaborate with. In addition, Emma faced our Quick-Fire Biographical Trivia Questions – with some unexpected results! (Immediately after the interview, Emma remembered who her ultimate hero was and we promised to make a note – it's her producer/collaborator Pete Woodroffe.)
Check out the pics of Emma Stevens on stage by our official photography partner 99Probs below:
'Enchanted' is available to download on iTunes now: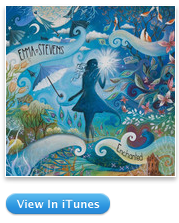 With degrees in Art History and Film Studies, Isaac has experience in Hollywood and the US independent film industry, and has worked as a bookseller, lecturer and artist. He has what he likes to call "wide-as-the-horizon" taste in music and films.

Posted Under