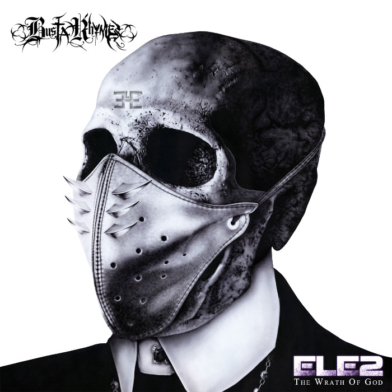 Busta Rhymes releases his long-awaited Extinction Level Event 2: The Wrath of God for the culture. The album serves as the follow-up to the seminal 1998 three-time Grammy-nominated, RIAA Certified Platinum album E.L.E. (Extinction Level Event): The Final World Front. This is the crowning achievement of Rhymes' legendary three-decade-long career. Hailed as one of Hip-Hop's greatest live performers and music video visionaries, the energetic icon has masterfully crafted what has been over eleven years in the making up until this point. Rhymes carefully curated a collection of gems that are nothing short of timeless.
As much fire as "The Dragon" unleashes himself, Extinction Level Event 2: The Wrath of God is finally ready for consumption by the masses featuring a small army of superior producers and performers that assist in fueling his barrage. Legendary comedian, actor, writer and producer Chris Rock helps lead the charge as the narrator of the entire album, while Kendrick Lamar, Mary J. Blige, Q-Tip, the late great Old Dirty Bastard, Rakim, Pete Rock, BET 202 Lyricist of The Year Rapsody, Bell Biv DeVoe, Mariah Carey, M.O.P., Nikki Grier, Anderson Paak, Vybz Kartel and Minister Louis Farrakhan make for an impeccable guest list of features. Rhymes' brings much anticipation with his return, having revealed his tracklist filled with hip-hop's legends and today's iconic acts earlier this week.
E.L.E. 2 is introduced by a larger than life voice reading Genesis Chapter 11 from the bible and introduces NY comedic legend Chris Rock emphasizing the end of the world with Rhymes' return. This first half of this masterpiece brings in riotous street bangers and anarchy infused party missiles including the latest rendition of "Outta My Mind" featuring Bell Biv DeVoe. He gave us a taste of what was to come with instant hits "The Don & The Boss" featuring Jamaican recording legend artist Vybz Kartel and "YUUUU" featuring the incomparable Anderson Paak.
The second half of E.L.E. 2 provides slower-tempo, personally pensive, audaciously analytical, and soul-touching commentary tracks including "Where I Belong" featuring Mariah Carey, an R&B sequel to "I Know What You Want" and instant classic "Look Over Your Shoulder" featuring Kendrick Lamar. E.L.E. 2 wraps up with the dark and eerie track "Satanic" along with Chris Rock's final appearance to close the album. Each track is cinematically woven together creating a conceptual masterpiece.
"I am so ecstatic for my fans to hear this body of work. I poured over a decade of my heart and soul into this project," stated Rhymes. "So blessed to be able to bring together all of these artists and creators to make this record, with legends past and present. It's been a long time coming and I hope this moves everyone as deeply as it did for me while creating it."
Full Tracklist:
E.L.E. 2 Intro ft Chris Rock, Rakim, Pete Rock
The Purge
Strap Yourself Down
Czar ft M.O.P.
Outta My Mind ft. Bell Biv Devoe
E.L.E. 2 The Wrath of God ft Minister Louis Farrakhan
Slow Flow ft. Old Dirty Bastard
Don't Go ft Q-Tip
Boomp!
True Indeed
Master Fard Muhammad ft. Rick Ross
YUUUU ft Anderson.Paak
Oh No
The Don and The Boss ft Vybz Kartel
Best I Can ft Rapsody
Where I Belong ft Mariah Carey
Deep Thought
The Young God Speaks
Look Over Your Shoulder ft Kendrick Lamar
You Will Never Find Another Me ft Mary J Blige
Freedom? Ft Nikki Grier
Satanic
We're always on the lookout for writers/presenters/videographers and photographers. If you think you have what it takes to join the writing team. Get in touch!
http://www.popscoop.org/joinus/

Posted Under