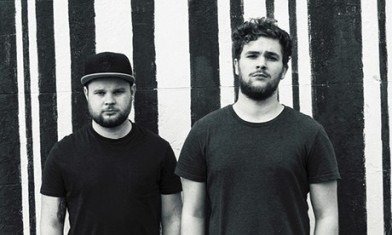 Royal Blood recently named on the BBC's long list: sounds for 2014 took to the stage after a brief wait during the turn over between support act Tigercub and Royal Blood.
The Norwich Waterfront was packed full of punters waiting for the headliners. Despite this, Tigercub worked the audience very professionally without any hitches what-so-ever.
To get some sort of idea of what Tigercub sounds like then just imagine 'Sex Bob-omb' from 'Scott Pilgrim Vs The World' in a head on collision with Nirvana. With songs such as 'Centerfold', 'Mother' and 'Little Rope' they are digging their own Tigercub shaped hole in which to flourish.
Their performance style isn't gripping, you not standing in awe but never the less the cool of the songs forces you half your proverbial hanging off the edge of your metaphorical chair.
The crowd was caged within the confines of the waterfronts smaller studio room. As Royal Blood come on, the crowd – intoxicated by beer – are secreting adrenaline. They kick of their set with an unknown song that seemingly switches the 'Teenage-Head-Nod' on.
Despite the possible use of a bass backing track Royal Blood operate far better live than on the recordings. They are one of those rare bands that raw awesome power unlimitedly at their disposal.
Royal Blood don't have a huge collection of tracks out and they only introduced the songs they have recorded which are, 'Come On Over', 'Little Monster' and 'Out Of The Black'. Their performance stomped harder than Goliath and made the heaviest bands look like primary school tantrums, Royal Blood are surely the most exciting thing to happen to rock music since the formation of supergroup, 'Them Crooked Vultures'.
The Brighton two piece only formed in early 2013 by best-of-buds 'Mike Kerr' (Bass and vocals) and Ben Thatcher (Drums). This really comes through on stage, the way they read each other constantly is only achieved if you know someone personally for a long time. This has its effect on the audience too. In my mind it puts me at ease straight away because their performance is better and we have a better time.
'Out Of The Black' was topping off their headline performance and it really was the icing on the space-cake far better than anything you hope to see by the band. They are worth the money, unlike a Apple Mac air, ultra slim, mk 2, S where to be worth the money the ruddy thing would have to be wiping my arse as well. So all in all Royal Blood is more worth your cash than buying a Macintosh and just like a 'Mac' they will be in huge demand within the next few years.

Posted Under
Twitter
Join us on Facebook