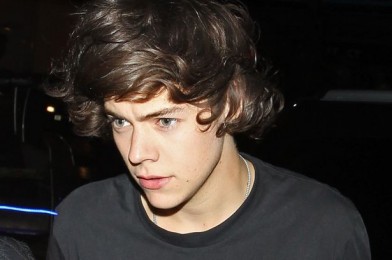 One Direction heartthrob Harry Styles was almost reduced to tears as he was forced to crawl under fans' legs after being mobbed outside his hotel in New York City yesterday.
Security guards lost control over a mass of screaming girls when Harry tried to leave the hotel. He was forced to go on his hands and knees and crawl under peoples legs to get to his car.
An onlooker told omg!: "Harry looked really upset and scared. Security cleared a path for him but one girl threw herself at him and the rest followed.
"He had to crawl under someone's legs to get into his car, security were going crazy and Harry looked like he was going to cry."
Things got even worse for poor Harry when one fan tugged on his arm and begged him for a photograph. When he wouldn't sign an autograph for her because she was being aggressive, she ripped to shreds her poster in front of him.
One Direction fan @Oh1DStalker tweeted: "omg a fan just met harry and he wouldn't take a picture so she ripped apart her poster in front of him oh my god.
"She grabbed his arm and said, 'Harry can I take a picture?' And he was like, 'You're not taking a picture by grabbing my arm.'
"He was nice to every single fan until she groped his arm (sic)"
Harry later returned to the hotel after visiting the Apple store and begged fans to leave him alone after offering to have his photo taken with everyone.
A source explained: "When he arrived back he asked everyone if they would leave if he posed for a picture with each of them.
"Everyone agreed and he spent ages taking pictures after they all got in a line."
We're always on the lookout for writers/presenters/videographers and photographers. If you think you have what it takes to join the writing team. Get in touch!
http://www.popscoop.org/joinus/

Posted Under
Twitter
Join us on Facebook