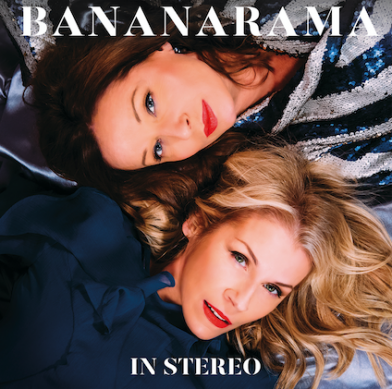 For the past three decades, Bananarama's Sara Dallin and Keren Woodward have been one of pop's most influential and revered groups. Their hit packed career happened because they were the mould-breakers. Sometimes reminders of pop genius come in the slightest of touches, the subtlest of triggers. In Stereo, their upcoming 11th studio album, is full of them.
With zero complacency and an ever-increasing touring schedule across the world since their last full studio album Viva in 2009 (the band have since released numerous EPs), the duo's creativity, vigour and passion have never faltered. 2017 provided a moment to take a step back from recording the LP, to bring the hugely successful one-off Original Line-up Tour to the stage before returning to complete the final tracks for In Stereo.
Having succeeded in their mission – these shows were only ever intended as an exciting diversion – it is back to the day job with all guns blazing, all choruses hitting the target. 'That walk down memory lane can be a long one sometimes,' says Sara. 'You want to keep everything new intact as well.
The electro pulses throbbing through newly revealed track Dance Music; the moody echo vocal effect on the bridge of I'm On Fire; the boisterous Saturday night pure disco Stuff Like That; the Blondie-ish buzz to Looking for Someone; the spare, house music bassline toTonight. Finishing on a ballad, as all the best Bananarama albums do, on the sad and gorgeous On Your Own. In Stereo is Bananarama back to their pinnacle best, a ten-track total recall on their irresistible pop storytelling capacity.
The band have also collaborated with producer royalty Richard X on the stomper Love In Stereo. Richard is not just one of UK pop's great pop producers, he's one of its great scholars, too. Bananarama are, self-evidently, one of its greatest parables, the group who shoved the door open for girls in pop to do things entirely on their terms as the 80s mopped up the mess of Punk and turned it into something real and affecting.
'The amount of women we've met,' says Keren, 'that say that we were an inspiration to them growing up, has always been one of the best things about being in the band.' 'I'd make an album every year if I could,' says Sara, of the gloriously fleet-footed handiwork put in on In Stereo. 'Song-writing is what I love to do, along with performing.' 'We've always written from personal experiences,' adds Keren, The perfect pop song is about creating a memory. If I look back on my life, you can almost tell the story of it through pop songs. Romances as a teenager, your first kiss, first love, first heartbreak. Those feelings don't disappear, they change into something you can still write about from your own experience and everything around you.'
The record was mostly made in the Wapping studios of Bananarama's most enduring musical ally, producer Ian Masterson. Recording with Ian they say was a delightful process. 'We have a routine,' notes Sara. They'll arrive in the studio in the morning, have a coffee and a natter, say hello to Masterson's dogs, Martha and Marilyn and then get down to the earnest business of making the songs fashioned in their heads, together, into the sparkling, one listen and you're hooked three-minute pop wonders for which Bananarama have been famed for life.
In the spring, they're going to take an evening with Bananarama on tour for one time only, to small, intimate venues and will incorporate Q&As with the audience. The band will perform the hits as well as material from the new album. 'It feels like the right thing to do,' says Sara, 'to get back in touch at ground level with the fans. To have a conversation with them and then play the new material.'
The worldwide audience for the band is as captive as ever. As a two-piece, the most enduring version of Bananarama, the one that lasted thirty years, they will take their show to the worldwide stage next year, including Europe, USA, Australia and the Far East'. 'It's the best job in the world' says Sara.
The album is the refraction of that, the next stage in their incredible adventure, the one that has lasted 30 years. Welcome back IN STEREO, Bananarama,
Track listing
1 Love In Stereo
2 Dance Music
3 I'm On Fire
4 Intoxicated
5 Tonight
6 Looking For Someone
7 Stuff Like That
8 It's Gonna Be Alright
9 Got To Get Away
10 On Your Own
Album pre-order link – https://listnin.co/BananaramaStereo
Live Dates
Friday 26th April – Omeara, London
Saturday 27th April – Borderline, London
Sunday 28th April – Glee Club, Birmingham
Tuesday 30th April – Gorilla, Manchester
Thursday 2nd May – St Luke's, Glasgow
All tickets VIP
Price – £75.00 (plus booking fees)
Tickets on sale Friday 25th January @10am
No Description
Pop Scoop founder and editor. Ex showbiz/tech editor at the Cyprus Mail. Former sub-editor at Archant. Former art director Sky TV. Co-founder of Kool Magazine and freelanced for the BBC, Channel 4, Warner Bros and the Cyprus Broadcasting Corporation.

Posted Under
Twitter
Join us on Facebook