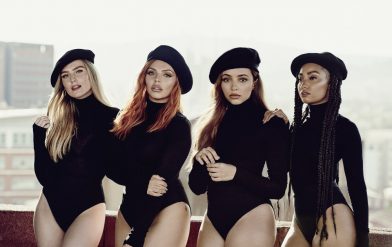 Little Mix, BTS, The 1975, Charli XCX, HRVY and a Hollywood All-Star line-up including Hailee Steinfeld, John Cena, Emma Stone and Benedict Cumberbatchare set to host their own hour long show on BBC Radio 1 this Christmas Day with festivities starting from 10am.
Radio 1's Superstar Playlists – which is also available on BBC Sounds – will see Little Mix sharing their favourite songs and performing Christmas classics on kazoos, BTS trying out British traditions (mince pies and Christmas crackers) for the first time, Charli XCX calling for Kylie Jenner to release a Christmas song, and The 1975 ranking their favourite Christmas chocolates.
Joining Radio 1's film critic Ali Plumb for the Hollywood All-Stars line-up are some of the biggest names in film including Emma Stone, Hailee Steinfeld, Michael B Jordan, Benedict Cumberbatch, Jack Whitehall, Claire Foy, Keira Knightley, Simon Pegg, Nick Frost, Taron Egerton, John C Reilly and Sarah Silverman, all choosing their favourite Christmas songs to curate the ultimate Superstar Playlist.
Little Mix says: "Merry Christmas! We are so happy that we have been asked to host our own Superstar Playlist on Radio 1. We're really excited to play our favourite Christmas songs and we want everyone to join in the festive fun!"
HRVY says: "I'm super excited to be on Radio 1 with you this Christmas! Join me for some great tunes, funny games and lots of festive cheer.."
Radio 1 Christmas Day Schedule
6.30-10am: Radio 1 Breakfast with Scott Mills
10-11am: Little Mix
11am-12pm: HRVY
12-1pm: BTS & Adele Roberts
1-2pm: Charli XCX
2-3pm: The 1975
3-4pm: Ali Plumb's Hollywood All-Stars
4-7pm: Jordan North
7-9pm: Radio 1's Future Sounds with Annie Mac
9-11pm: The 8th with Dev
11pm – 1am: Radio 1's Indie Show with Jack Saunders
Listeners can tweet as they listen on Christmas Day using the below hashtags:
#R1LittleMixmas
#R1HRVYXmas
#R1BTSXmas
#R1CharliXCXmas
#R1The1975Xmas
#HollywoodAllstarsXmas
Pop Scoop founder and editor. Ex showbiz/tech editor at the Cyprus Mail. Former sub-editor at Archant. Former art director Sky TV. Co-founder of Kool Magazine and freelanced for the BBC, Channel 4, Warner Bros and the Cyprus Broadcasting Corporation.

Posted Under