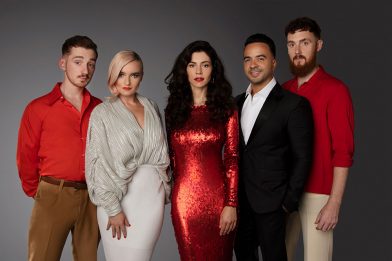 Clean Bandit have unveiled their new single "Baby" feat. Marina and Luis Fonsi, alongside the band's self-produced official video (watch below).
Download or stream now: http://atlanti.cr/Baby Taken from our new album "What Is Love?" – out 30.11.18. Pre-order now: http://atlanti.cr/WhatIsLove Click here to subscribe: http://bit.ly/SubscribeToCleanBandit Follow us: Website: http://cleanbandit.co.uk/ Facebook: http://www.facebook.com/cleanbandit Twitter: http://www.twitter.com/cleanbandit Instagram: http://instagram.com/cleanbandit Soundcloud: http://www.soundcloud.com/cleanbandit Spotify: http://www.atlre.co.uk/CleanBanditSpotify
The follow-up to Clean Bandit's 4.5 million-selling and fourth UK No.1, "Solo", released in May, the trio's Cuban-influenced, dancefloor-filling single, "Baby", features vocals from Marina and Luis Fonsi. The song and official video (shot in LA) follows a storyline of lost love and marks the band's second collaboration with Marina following "Disconnect"; a track drop that set the internet alight last summer after its live debut at Coachella.
Announced last month, Clean Bandit's new album 'What Is Love?' is confirmed for release on November 30. The follow-up to the band's two million-selling and UK Top 3 debut, 'New Eyes', released in 2014, 'What Is Love?' is a home to Clean Bandit's inventive, eclectic multi-genre catalogue – a collection of gigantic, upbeat mega-bops married with emotive lyricism. A band that thrive on being true collaborators, Clean Bandit have enlisted another extensive cast of blockbuster vocalists this time around, with Zara Larsson, Marina, Luis Fonsi, Demi Lovato, Sean Paul, Anne-Marie, Ellie Goulding, KYLE, Big Boi, Tove Styrke, Stefflon Don, Craig David, Kirsten Joy, Rita Ora, Julia Michaels and ALMA all featuring. The deluxe edition will also feature Yasmin Green, Charli XCX, Bhad Bhabie, DaVido, Love Ssega and Louisa Johnson.
'What Is Love?' tracklisting
Symphony (feat. Zara Larsson)
Baby (feat. Marina & Luis Fonsi)
Solo (feat. Demi Lovato)
Rockabye (feat. Sean Paul & Anne-Marie)
Mama (feat. Ellie Goulding)
Should've Known Better (feat. Anne-Marie)
Out at Night (feat. KYLE & Big Boi)
Last Goodbye (feat. Tove Styrke & Stefflon Don)
We Were Just Kids (feat. Craig David & Kirsten Joy)
Nowhere (feat. Rita Ora & KYLE)
I Miss You (feat. Julia Michaels)
In Us I Believe (feat. ALMA)
Deluxe
24 Hours (feat. Yasmin Green)
Playboy Style (feat. Charli XCX & Bhad Bhabie)
Beautiful (feat. DaVido & Love Ssega)
Tears (feat. Louisa Johnson)
Pop Scoop founder and editor. Ex showbiz/tech editor at the Cyprus Mail. Former sub-editor at Archant. Former art director Sky TV. Co-founder of Kool Magazine and freelanced for the BBC, Channel 4, Warner Bros and the Cyprus Broadcasting Corporation.

Posted Under