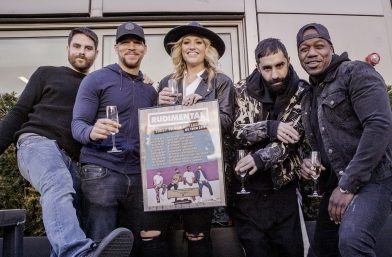 Rudimental have announce that Ella Henderson has officially signed to their Major Toms label.
A hub for artists to grow and develop, Major Toms (an imprint of Asylum Records) has already provided the launch-pad for debut signing Anne-Marie to become one of the UK's biggest stars – her critically-acclaimed debut album, 'Speak Your Mind', entered the UK Album Charts at #3 on release back in April and is now officially the biggest selling debut of 2018 – with Ella joining as the band's second official signing. Since the release of their debut album 'Home' in 2013, Rudimental have also played a crucial role in the careers of MNEK, John Newmanand Ella Eyre, all of whom recorded breakthrough releases with the band.
Having recently toured with Rudimental across the UK, culminating in two sold-out shows at London'sAlexandra Palace, Ella will be working on new music with the band over the coming months.
"We're proud to welcome the amazing Ella Henderson to the family", say Rudimental, "she's an exceptional talent and we're so excited for what's to come."
"I'm so happy and excited to have signed with an amazing group of artists, musicians, producers and friends" says Ella. "I have been so welcomed over recent months and I am so excited to become a new member of the Major Toms / Asylum family!Rudimental are such a fun loving group continuously producing exciting new music. They have huge hearts and care about the wider community, people and their fans. Having the boys involved in this next chapter of my musical journey makes me SOOOO excited for what's to come!"
Pop Scoop founder and editor. Ex showbiz/tech editor at the Cyprus Mail. Former sub-editor at Archant. Former art director Sky TV. Co-founder of Kool Magazine and freelanced for the BBC, Channel 4, Warner Bros and the Cyprus Broadcasting Corporation.

Posted Under