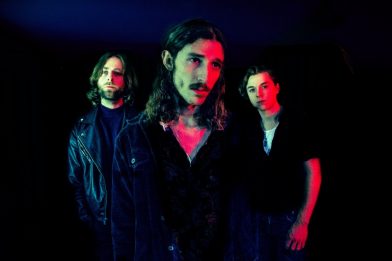 Demob Happy have announced their second album 'Holy Doom', due for release March 23rd 2018 via SO Recordings, and announced a full European tour with Frank Carter & The Rattlesnakes through March and April 2018.
A deep introspective trip for the ages, 'Holy Doom' sees the Newcastle-formed, Brighton-based trio peering into the depths of the human soul. With a gemini spirit, this remarkable full-length pinballs between pure holiness and the lure of the devil, often within the space of one whirlwind song.
Marking the first new music to feature on 'Holy Doom', new music video 'Be Your Man' arrives suitably tongue in cheek. "We like old videos of bands on TV shows, they have this unorganised quality to them, before this standardised version of what a performer should do and how to act. it was looser and more care free, they took the piss out of it all," Marcantonio adds.
Watch 'Be Your Man' here:
Official video for "Be Your Man". Taken from the forthcoming album "Holy Doom", out 23rd March 2018.
Six years in the making, 2015 debut 'Dream Soda' cemented Demob Happy as a resolute DIY force who'd played the long game, unwilling to follow any trend, unphased by guitar music's apparent stale patch.
Hailing from their hub on the coast's Nowhere Man Café, they emerged with a sweat and dirt-stained statement of intent, dubbed "a frantic, mission statement to rival the best of the year" by DIY Magazine, and "absolutely chockablock with good songs" by the NME.
Turn to 2016, however, and collectively the band were under strain. A member down, depression, anxiety, and a nasty break-up followed.These feelings are often burrowed up and left to fester, but Demob Happy decided to put everything out in the open.
It's this relative struggle, and the united spirit they combated it with, which defines 'Holy Doom'.  Where 'Dream Soda' had the childish, fidgety spirit of popping candy exploding on the tongue, its follow-up looks inwards.
Recorded over the summer of 2017 with Ian Davenport (Band of Skulls, Gaz Coombes) in Oxfordshire – save for the drums, where they reunited with 'Dream Soda' deskman Christoph Skirl to capture the perfect, crisp sound they required.
Looking ahead to 2018, Demob Happy will support Frank Carter & The Rattlesnakes across Europe through March and April, after dates in the UK this month, and December shows with The Cribs.
Pre-order 'Holy Doom' here – https://demobhappy.lnk.to/HolyDoomPreOrder
Tour Dates (ticket link – http://www.demob-happy.com/)
November w/ Frank Carter & The Rattlesnakes
27 Mandela Hall, Belfast
28 Tivoli Theatre, Dublin
December w/ The Cribs
5 King Tut's, Glasgow
9 Gorilla, Manchester
14 ULU, London
22 Brudenell Social Club, Leeds
March 2018 w/ Frank Carter & The Rattlesnakes
11 Ancienne Belgique – Brussels, Belgium
12 Festival Les Paradis Artificiels – Lille, France
13 Trabendo – Paris, France
14 Stereolux Club – Nantes, France
16 Headcrash – Hamburg, Germany
17 Vega Small Hall – Copenhagen, Denmark
19 Debaser Strand – Stockholm, Sweden
20 Bla Bar – Oslo, Norway
21 Garage – Bergen, Norway
25 Luxor – Cologne, Germany
26 Bi Nuu – Berlin, Germany
27 Strom – Munich, Germany
28 Schlachthof – Wiesbaden, Germany
29 Le Marche Gare – Lyon, France
April 2018 w/ Frank Carter & The Rattlesnakes
2 Melkweg – Amsterdam, Netherlands
'Holy Doom' Tracklisting
Liar In Your Head
2. Be Your Man
3. Loosen It
4. Fake Satan
5. Runnin' Around
6. I Wanna Leave (Alive)
7. Maker of Mine
8. Holy Doom
9. Spinning Out
10. Gods I've Seen
11. Fresh Outta Luck

The following two tabs change content below.
Latest posts by Gary Roper (see all)

Posted Under