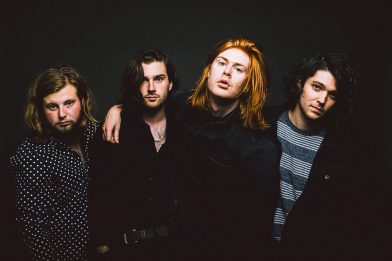 The Amazons' incendiary set at Reading Festival to their hometown prompted Dork to conclude "More than a sensation, The Amazons performance showcases what the festival spirit is all about… Football stadium ready chants breaking out between songs as people clamber under the canvas determined to get to a space inside." Watch below!
The debut album. Out Now. Get it on iTunes: https://TheAmazons.lnk.to/albumpreID Discover more from The Amazons on Spotify: https://TheAmazons.lnk.to/AONYA/spotify Directed by Oscar Sansom Also available on… SIGNED CD & Vinyl: https://TheAmazons.lnk.to/AONYA/offic… iTunes: https://TheAmazons.lnk.to/AONYA/itunes iTunes Deluxe: https://TheAmazons.lnk.to/AONYA/itune… Amazon: https://TheAmazons.lnk.to/AONYA/amazon Google Play: https://TheAmazons.lnk.to/AONYA/googl… HMV: https://TheAmazons.lnk.to/AONYA/hmv Now streaming on… Spotify: https://TheAmazons.lnk.to/AONYA/spotify Apple Music: https://TheAmazons.lnk.to/AONYA/apple…
Now fastest rising rock band The Amazons continue their surge they share new vigorous video for fan favourite track 'Ultraviolet', featuring the band's emotive performance augmented by animations.
The new video video captures the band excelling in their natural environment with an explosive performance which reflects the raw energy of their gigs. Each scene was shot on 16mm film, with dynamic animations scraped by hand,  frame by frame onto the negative before being run back through the scanner.
The video is the result of the craftsmanship by director Oscar Sansom, whose previous credits include videos for Biffy Clyro, Belle and Sebastian, Idlewidl and Twin Atlantic.
"I wanted to create a video that really celebrates the energy of The Amazons' live performance, a visceral and explosive piece that would tear through the very film it was shot on. I wanted to make a blistering performance video that grabbed you by the scruff of the neck and looked you dead in the eye. "
Sansom adds: "The band has this amazing effortless rock'n roll attitude and sound and I wanted to reflect that through the techniques I used. Shot on 16mm to give it a beautiful filmic texture I then went about mutilating the final negative. Bleach, scratching, ink and fire were my weapons of choice, I did everything you are told not to do with a negative and there is something quite enjoyable about that punk style approach to making."
The year started in style for the young Reading-based quartet as they became the most hotly-tipped guitar band of 2017 according to Music Week. The band's self-titled debut smashed into the album charts at #8 earlier this summer. It also reached #6 on the vinyl album chart. That flying start was extended with continuing support from Radio 1, a debut performance on 'Later… with Jools Holland',guest appearance on Sunday Brunch, and the backing of a wide range of print and online media. The Amazons couldn't be ignored.
As with the rest of the album,  'Ultraviolet', which was produced by the Grammy nominated Catherine Marks (Wolf Alice, Foals, PJ Harvey) and recorded at the world famous Assault and Battery Studiosin west London.
The track's parent album includes the punk 'n' roll rush of opener 'Stay With Me', the playful rhythmic drive that underpins 'Black Magic', and the foreboding grunge of 'Little Something'. Elsewhere, 'Burn My Eyes' recalls both Husker Du and Biffy Clyro with its cocktail of visceral aggression and melodic intent, while 'Raindrops' showcases Thomson's emotive vocal delivery. The album comes to surprise conclusion with the lighters-aloft piano ballad 'Palace' which demonstrates another angle to band away from their fiery wall of sound.
The Amazons' ascent has continued in the live arena too. Their first headline tour of the year was entirely sold-out and their festival scheduled has extended from Glastonbury, Reading & Leeds Festival,  andBBC Radio 1's Big Weekend at home to dates all across the rest of Europe as well as Japan and South Korea.
With October headline tour sold out, The Amazons have announced further UK dates for February 2018. Tickets for the dates, listed below, are selling quickly with several nights already sold-out. Remaining tickets are on sale from http://theamazons.co.uk
2017
OCTOBER
2nd – The Waterfront, Norwich (SOLD OUT)
3rd – The Leadmill, Sheffield (SOLD OUT)
4th – The Liquid Room, Edinburgh (SOLD OUT)
6th – Rescue Rooms, Nottingham (SOLD OUT)
7th – Neighbourhood Festival, Manchester
8th – The Riverside, Newcastle (SOLD OUT)
9th – The Tramshed, Cardiff (INCREASED CAPACITY DUE TO DEMAND)
11th – Phoenix, Exeter (SOLD OUT)
12th – The 02 Forum Kentish Town, London (SOLD OUT)
13th – Engine Rooms, Southampton (SOLD OUT)
14th – SWX, Bristol (SOLD OUT)
20th – The Mercury Lounge, New York
23rd – Bardot, Los Angeles
2018
FEBRUARY
1st – O2 Institute, Birmingham
2nd – The Garage, Glasgow
8th – Junction, Cambridge
9th – Pyramids Centre, Portsmouth
10th – The Hexagon, Reading
The following two tabs change content below.
We're always on the lookout for writers/presenters/videographers and photographers. If you think you have what it takes to join the writing team. Get in touch! http://www.popscoop.org/joinus/
Latest posts by Staff Writer (see all)

Posted Under