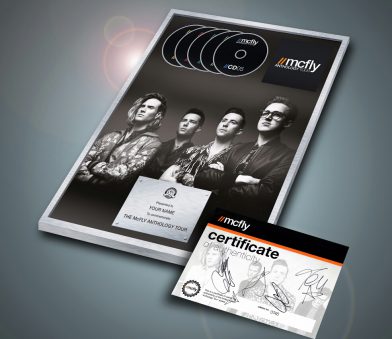 McFly's critically acclaimed return to the UK music scene was a huge success in September this year when they played a series of shows performing every single track they ever released. To celebrate this incredible feat, McFly end 2016 in true style with the release of a special limited edition Anthology Tour Deluxe Box Set.
Watch the announcement video here:
To celebrate the awesome Anthology Tour we're releasing two very special and collectable items – a Limited Edition Deluxe Box Set and a Commemorative Presentation Disc. Both are available to pre-order on Friday 25th November at 9am GMT only on www.mcfly.com.
The amazing limited edition box set (only 2,000 units produced) is released on the 12th December and includes:
• 5 CDs containing the live recordings of each album performed
• Bonus 'Lads Lads Lads – literally on tour (Banter)' CD – all the good bits between the songs
• Deluxe 60 page hardback book containing incredible backstage and live photos taken during the tour
• DVD Documentary featuring exclusive behind the scenes footage filmed during the tour together with an interview with the band
• Pair of signed drumsticks (same brand as used by Harry)
• Set of exclusive Plectrums designed byTom, Dougie and Danny
• Official AAA Laminate and Lanyard as used on the tour
• Set list
This a must for any McFly superfan!
There will also be a McFly 'Anthology Tour – The Hits Live' album and an iTunes exclusive 'Anthology Tour Live' album released on the 2nd December on the bands own Super Records label.
The Anthology Tour saw the foursome perform together as McFly for the first time since 2013, when the band went on hiatus for McBusted's two massive arena tours.
Selling out in 10 minutes, the Anthology Tour saw the band play historic rock venues across London, Glasgow, Birmingham and Manchester. In a unique concept the band played three nights in each city, with each concert featuring a different set list from a different McFly album, alongside some of the band's biggest hits.
These extra special shows were a unique opportunity to see McFly perform all of their amazing back catalogue up close and personal.
McFly: Anthology Tour – Limited Edition Deluxe Box Set available exclusively via www. mcfly.com
MCFLY 'ANTHOLOGY TOUR' DELUXE BOX SET
CD1
1. 5 COLOURS IN HER HAIR
2. OBVIOUSLY
3. ROOM ON THE 3RD FLOOR
4. THAT GIRL
5. HYPNOTISED
6. SATURDAY NIGHT
7. MET THIS GIRL
8. SHE LEFT ME
9. DOWN BY THE LAKES
10. UNSAID THINGS
11. SURFER BABE
12. NOT ALONE
13. BROCCOLI
14. LOVE IS ON THE RADIO
15. LOVE IS EASY
16. NO WORRIES
17. SILENCE IS A SCARY SOUND
18. THE HEART NEVER LIES(MANCHESTER)
CD2
1. I'LL BE OK
2. I'VE GOT YOU
3. ULTRAVIOLET
4. BALLAD OF PAUL K
5. I WANNA HOLD YOU
6. TOO CLOSE FOR COMFORT
7. ALL ABOUT YOU
8. SHE FALLS ASLEEP
9. DON'T KNOW WHY
10. NOTHING
11. MEMORY LANE
CD3
1. WE ARE THE YOUNG
2. STAR GIRL
3. PLEASE PLEASE
4. SORRY'S NOT GOOD ENOUGH
5. BUBBLE WRAP
6. TRANSYLVANIA
7. LONELY
8. LITTLE JOANNA
9. FRIDAY NIGHT
10. WALK IN THE SUN
11. HOME IS WHERE THE HEART IS
12. DON'T STOP ME NOW
13. THE HEART NEVER LIES (GLASGOW)
CD4
1. LIES
2. ONE FOR THE RADIO
3. EVERYBODY KNOWS
4. DO YA
5. FALLING IN LOVE
6. POV
7. CORRUPTED
8. SMILE
9. THE END
10. GOING THOUGH THE MOTIONS
11. DOWN GOES ANOTHER ONE
12. ONLY THE STRONG SURVIVE
13. THE LAST SONG
CD5
1. END OF THE WORLD
2. PARTY GIRL
3. IF U C KATE
4. SHINE A LIGHT
5. I'LL BE YOUR MAN
6. NOWHERE LEFT TO RUN
7. I NEED A WOMAN
8. THAT'S THE TRUTH
9. TAKE ME THERE
10. THIS SONG
11. FOOLISH
12. THE HEART NEVER LIES (LONDON)
We're always on the lookout for writers/presenters/videographers and photographers. If you think you have what it takes to join the writing team. Get in touch!
http://www.popscoop.org/joinus/

Posted Under