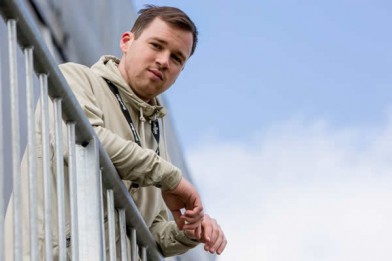 Pop Scoop! nabbed ascendant Norfolk rapper and "poet of the streets" Franko Fraize for a chinwag after his set at Sundown Festival.
He waxed lyrical about working with a full band, performing in front of a big home crowd on his first ever festival main stage, developing his craft as a bar writer and the progression of his sound, the revolutionising importance of smart phones for today's artists, and what is coming up next – tours, new single – in this inarguably "pucker" 2015 for him. Oi-oi!!
Follow us on Twitter: @Pop_Scoop
Presented by Isaac Mace-Tessler – @IsaacM_T
Filmed/Edited by Jimmy Mavroudis – @jimmymav
Photography by Lee Blanchflower – @99PROBSMusic
With degrees in Art History and Film Studies, Isaac has experience in Hollywood and the US independent film industry, and has worked as a bookseller, lecturer and artist. He has what he likes to call "wide-as-the-horizon" taste in music and films.

Posted Under