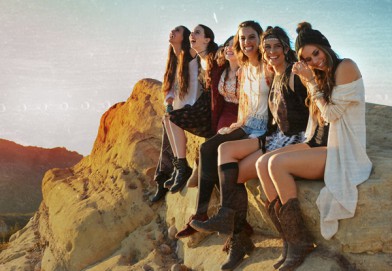 After a scorching summer, chart topping, and hugely popular, Cimorelli, release their highly anticipated EP, Renegade.
With over 700 million views and 3 million subscribers on YouTube, the six sisters of Cimorelli, originally from Sacramento, have grown their enthusiastic international fan base to levels that won them a Teen Choice Award for Web Star in 2013, and when they recently appeared in London as part of the DigiFest concerts in London, New York, Toronto, and Minnesota and fans came from throughout Europe to see them.
Stepping into the world of screen acting, the Cimorelli girls are extremely proud of their latest endeavor, the highly acclaimed and very successful Subway-sponsored web series sitcom "Summer With Cimorelli". The girls currently appear in a television commercial for Subway, and their music is featured in international television commercials for two new Hasbro products.
For the unfamiliar – Cimorelli are known for their tight harmonies, Christina, Katherine, Lisa, Amy, Lauren and Dani (ranging in age from 14-24 years old) started their group in 2007, playing many local gigs in Northern California after having spent several years in musical theater. In 2009, a top London music manager discovered their acapella cover of Miley Cyrus' song "Party in the USA" on YouTube, which led to a record deal with Universal label Island Records. They then moved to Los Angeles along with their five brothers.
The EP consists of four original songs and is available now at http://po.st/Hx30wW
THE NEW VIDEO FOR 'I GOT YOU' IS OUT NOW!
Watch it here:
Tracklisting includes:
I Got You
That Girl Should Be Me
Renegade
You're Worth It
Social Media
YouTube – www.youtube.com/cimorellitheband
Instagram – www.instagram.com/cimorelliband
Twitter – www.twitter.com/cimorelliband
Facebook – www.facebook.com/cimorelliband
Website -www.cimorellimusic.com
We're always on the lookout for writers/presenters/videographers and photographers. If you think you have what it takes to join the writing team. Get in touch!
http://www.popscoop.org/joinus/

Posted Under