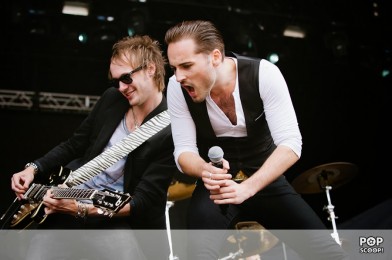 Having spent a busy summer opening shows ahead of performances by the likes of Olly Murs, Jessie J, Lawson, JLS and Union J, Joywride are set for their own headline gig at Islington's O2 Academy this month, and will be supported by The Dirty Flaws, That Retro Scene and Jonathan Ajayi.
Joywride are a band suddenly appearing on the music-media's radar and are already being tipped by several as 'one to watch'. With their soaring hooks and glam looks, Joywride are looking to redecorate the charts with real panache. Not ones for understatement, Joywride are proving to be one of the most dynamic live acts to emerge from London's underground in years. With a mix of classic-styled pop and a well-groomed fashionista charm, they are poised to take centre stage at the forefront of pop music
Following lead singer Ollie Wride's recent successful writing trip to the US, Joywride headlined Jack Rocks – the 4 July concert for Marie Curie Cancer Care – and were quickly added to UK pop-royalty concert line-ups, as well as being offered performances at the likes of Sundown Festival and Sound Island Festival
 Comprising lead singer Ollie Wride, guitarist Josh Dally, Bassist Charis Anderson and Crossy on Drums, the four members hail from different musical genres, allowing each to contribute their own ingredient to the bands' fresh pop-rock sound 
Spokesman Dion Clements said on the band's progress "Joywride are already being tipped by industry insiders as 'ones to watch', and having given their all in performances on the same stages as the likes of Olly Murs, Jessie J and Lawson, pop fans are starting to discover why. This O2 gig, presented by Jar Music Live, offers a great opportunity to unleash their unique sound on the world's music capital and for music fans to see a rising band perform live, early in their promising career"
Joywride can be seen headlining at the London's O2 Acadmey2, Islington, on Wednesday, 23 October – tickets can be booked at www.O2academyislington.co.uk, www.livenation.co.uk, or by contacting boxoffice@jarmusiclive.com
 "Every now and then one is lucky enough to witness an emerging band that is clearly much, much bigger than the status quo… Joywride are the epitome of such a phenomenon" -ISAAC MACE-TESSLER, POPSCOOP.ORG
"Awesome" -HITTHEFLOOR.COM
"They are AMAZING!!!" -MARKMEETS.COM
"…wowing festival crowds up and down the UK" -TINA CAMPBELL, CRAVEONENTERTAINMENT.COM
"Definitely one to watch for 2014" -EDP24
We're always on the lookout for writers/presenters/videographers and photographers. If you think you have what it takes to join the writing team. Get in touch!
http://www.popscoop.org/joinus/

Posted Under